Last Updated:
05/20/01

Last Updated:
05/20/01
Luke Skywalker
(Jedi Knight)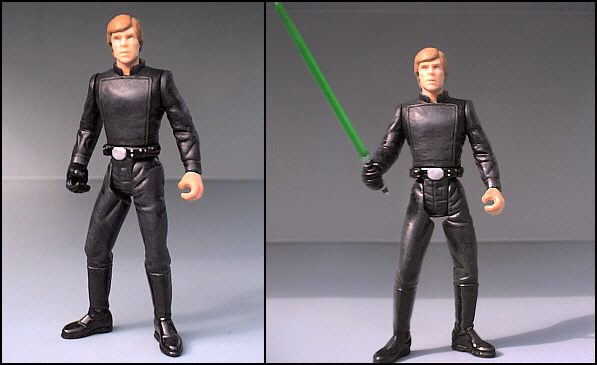 This Quick Custom took me a total of 30 min. to complete.
---
' How many resculpts of Luke Skywalker has Hasbro released? '
...Who knows, but here's a better question,...
' How many reasonably decent sculpts of Luke has Hasbro released? '
2,... maybe 3,... In my opinion not nearly enough.
---

Here's a quick scan I just added to show the difference between the Hasbro
Jedi Luke and my custom pieces.
Hasbro has yet to release a decent Luke Skywalker as he appeared in the final
third of the film Return of the Jedi. So I have taken it upon myself to do
this one the justice it deserves.
.
---

By far the easiest, and best looking, 'Hasbro' era custom I've made to date, the base of this figure was originally a Bespin Luke Skywalker.

With an X-acto knife, I removed the detail from the front of the chest, and did some creative shaving to his shoulders & upper arms to get them into the correct shape. I also did some additional work on the lower arms and a bit of sanding to take away the rough cut edges.

---
I swapped the head with his Final Jedi Duel 3-pack counterpart, and his legs with those of Plo Koon. His right hand was replaced with Darth Vader's from the 'Escape the Death Star' game and the lightsaber is a combination of the new Classic Obi-Wan Kenobi saber and a Jedi Luke blade.
---
The front chest flap is made from sculpey, and is just a very thin outline blended in towards the bare plastic. It was trimmed and detailed with a single indented line made with the edge of my razor blade.
---
I painted his entire body black, with the exception of his hands & head. Afterwards the 'cloth' areas were dry brushed with charcoal gray, and a slightly lighter shade on areas that really stick out. To finish, I covered his belt and boots with a gloss cote and painted all the metal bits on his belt silver.
---
PARTS LIST

| | | |
| --- | --- | --- |
| Source | | Parts |
| POTF - Bespin Luke Skywalker | - | full body, arms without right hand |
| POTF - Cinema Scene - Final Jedi Duel | - | Jedi Luke head |
| POTJ - Plo Koon | - | legs |
| POTJ - Classic Obi-Wan Kenobi | - | lightsaber handle |
| 'Escape the Death Star' game | - | green lightsaber blade, Darth Vader's right hand |
.